Pick a

Category
Pick a Category
menu
< Gas Grills and BBQs
Jersey stainless steel Gas grill BBQ 6+1 burners and barbecue Grill
Jersey stainless steel Gas grill BBQ 6+1 burners and barbecue Grill
ProduceShop
Regular price:
£ 349.95
Price:
£ 279.95
Save:
£ 70.00
VAT included
Reference:
BB2089GEUN
Availability:
In over 3 months
Free Delivery Promotion until

Certified Quality Product

Safe and appropriate packaging

Guaranteed fast assistance

In Stock and Ready to Ship
Are you looking for a high-quality gas grill with 6+1 burners without necessarily spending a fortune? Have you visited every website or have you been to every shop within 60 miles but you didn't find the perfect barbecue that suits you best? Have you heard a lot of advice and now feel even more confused? Don't worry! Our brand new Jersey gas grill by Mr. Tuzza is here to help you!
Jersey meets everyone's needs and improves grilled food quality: the 2.0 kW burners, the high-quality materials (super-resistant stainless steel) and the manufacturing accuracy make this gas grill one of the best-selling product of its kind. The built in 2-large wheels make moving the grill easy, so that you can place it anywhere you want: it will perfectly suit every surrounding area or location; plan and host a tasty BBQ in your garden, at the park, on your terrace or balcony while Jersey takes care of everything. To this day, Jersey is one of the most efficient gas grills on sale today, being offered at an extremely tempting and competitive price.
The use of high-quality materials and the modern design of this gas grill with 6+1 burners allow you to optimise heat distribution for the best cooking evenness ever and for any kind of food: fish, meat, vegetables or vegetarian burgers... Jersey's effortless efficiency will spark new cooking creativity for you to enjoy with your friends or family.
Gather up your loved ones and your closest friends around the extraordinary Jersey stainless steel gas grill BBQ with 6+1 burners by Mr. Tuzza: where reliability, quality and safety come first.


Technical Characteristics Jersey BBQ:
6 main burners + 1 side burner, food warmer
Included accessories of a commercial value of € 29,95: Two headed fork, Pliers and Spatula
Product size: 118×54.6×96.5 cm
Cooking area: 63×37 cm - Height: 82 cm
CTN size: 81×57×30 cm
Total rated heat output of 2 main burners: 2.0 kW
Rated heat output of side burner: 2.5 kW
Material: stainless steel and metal
Built-in thermometer for temperature control during cooking process
Electronic ignition
Practical and handy design
Removable grease tray
Grill cabinet adds enclosed storage space for all your essential grilling tools and accessories
2 large side shelves (one on each side) for storing kitchen utensils and/or food
2-large wheels make moving the grill easy
Powerful grilling engine
Regulator + PVC hose not included
Brand: Mr. Tuzza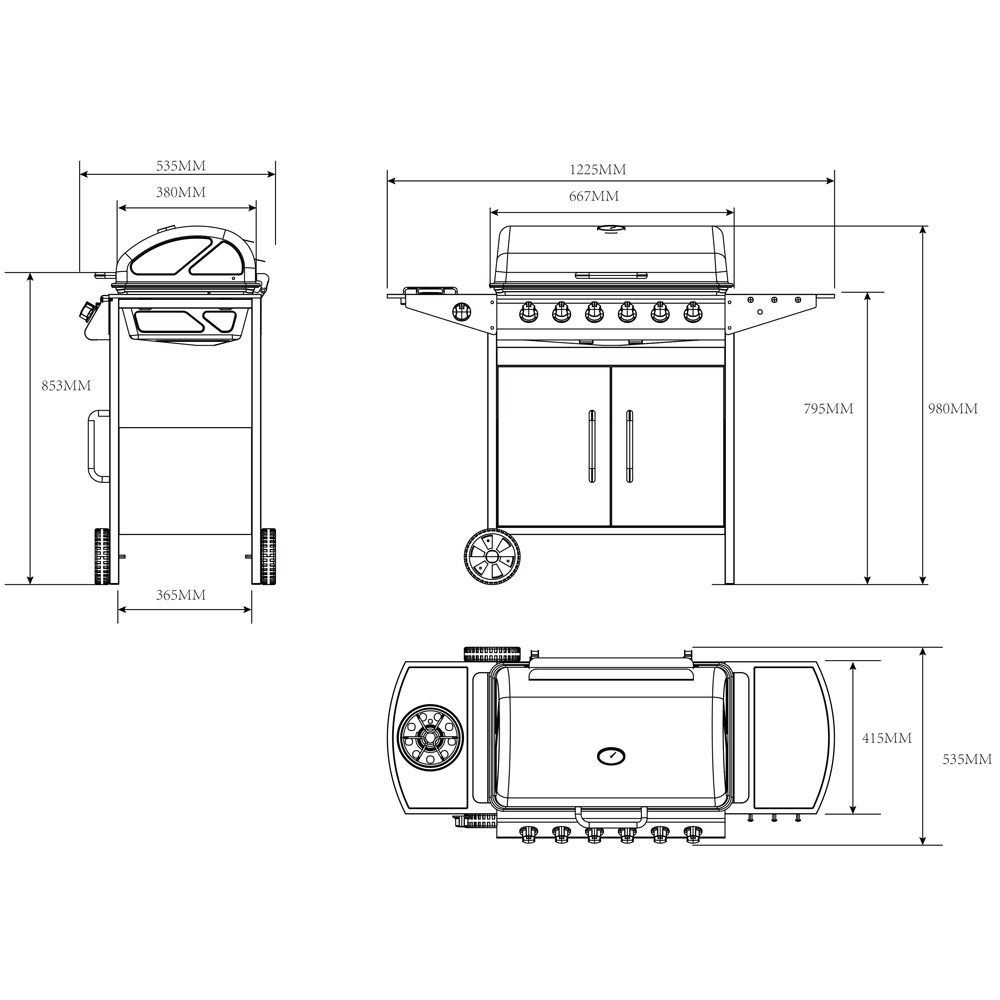 Download
Barbecue a gas in acciaio inox con 6+1 bruciatori e griglia JERSEY
Download (1.95M)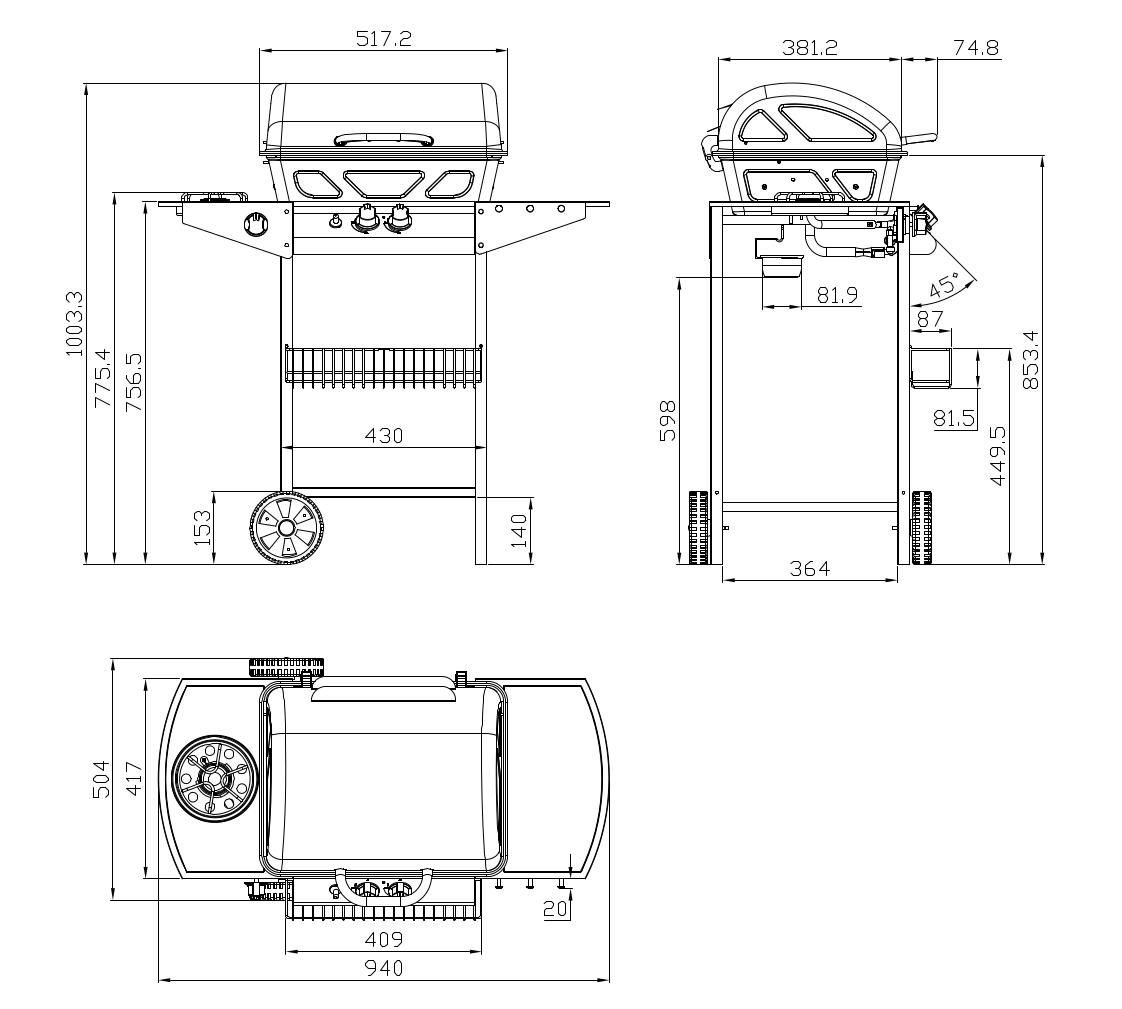 Is the product out of stock and you missed the opportunity to buy it?
Don't worry, starting today you can pre-order the desired item at the promotional price you see online right now.
What's the problem?
Pre-ordering allows you to book a product easily and without inconveniences.
It guarantees your order of the item without you having to worry about checking every day if it's back in stock and having to wait until the day of the product launch.
As soon as production is finished, we will proceed with the shipment to your home or place of choice.
When will the pre-order payment be charged?
You will be charged for the full amount on the same day as the pre-order.
When will I receive the product?
With a pre-order, you will have priority on arrivals, so you will be the first to receive the item as soon as it is back in stock.
You will also have the certainty of having blocked today's discounted price and, above all, of locking the "free transport" promotion in case of whatever happens in the future (price increases, promotions expiration, etc.).
Can I purchase pre-order products together with other items, in a single order?
Of course, yes, by choosing one of the two options below:
a) Single delivery: We will only deliver your entire order when all items are available. In this case you can easily add pre-order products and available products to your basket.
b) Multiple deliveries: We will deliver the available products first and then ship the ones in pre-order when available. In this case, we advise you to create two separate orders: one for the items that are immediately available and one for the items available for pre-order.
How can I pre-order?
You can pre-order by simply filling out the form below and our customer care will take care of the rest