Pick a

Category
Pick a Category
menu
< Gas Grills and BBQs
Ayrshire Gas grill BBQ made of stainless steel with 4+1 burners and barbecue grill
Ayrshire Gas grill BBQ made of stainless steel with 4+1 burners and barbecue grill
ProduceShop
Regular price:
£ 339.95
Price:
£ 269.95
Save:
£ 70.00
VAT included
Reference:
BB2087GEUN
Availability:
In over 3 months
Free Delivery Promotion until

Certified Quality Product

Safe and appropriate packaging

Guaranteed fast assistance

In Stock and Ready to Ship
The beautiful Ayrshire gas grill with 4+1 burners by Mr. Tuzza delivers higher performance thanks to its stainless steel and metal finish, its grill cabinet and the 2 large side shelves which add an enclosed storage space for all your essential grilling tools and kitchen accessories.
Ayrshire's indestructible burners each have their own piezo igniter, they retain heat, and better distribute it, for faster cooking. Whether it's meat, fish, vegetables or veggie burgers, with this gas grill you will be able to cook and grill extremely tasty meals that will stun your guests!
Gather up your loved ones and your closest friends around our Ayrshire and prepare to taste an unforgettable barbecue experience like never before.
This set maintains high-quality performance that will let you grill in complete comfort; the large cooking area will spark you to be more creative and experimental in your outdoor kitchen.
Ayrshire is equipped with 2-large practical wheels which make moving the grill easy: thanks to its minimal and modern design, whether in your garden, at the park or on a terrace or balcony, this gas grill will suit any area or location. Mr. Tuzza decided to sell this wonderful Ayrshire gas grill at a competitive price, to provide all customers with a high-quality product at an excellent affordable price.
Find out more about the best reliability and safety of Mr. Tuzza's products!


Technical Characteristics Ayrshire BBQ:
4 main burners + 1 side burner, food warmer
Included accessories of a commercial value of € 29,95: Two headed fork, Pliers and Spatula
Product size: 118×54.6×96.5 cm
Cooking area: 63×37 cm - Height: 82 cm
CTN size: 81×57×30 cm
Total rated heat output of 2 main burners: 3.0 kW
Rated heat output of side burner: 2.5 kW
Material: stainless steel and metal
Built-in thermometer for temperature control during cooking process
Electronic ignition
Practical and handy design
Removable grease tray
Grill cabinet adds enclosed storage space for all your essential grilling tools and accessories
2 large side shelves (one on each side) for storing kitchen utensils and/or food
2-large wheels make moving the grill easy
Powerful grilling engine
Regulator + PVC hose not included
Brand: Mr. Tuzza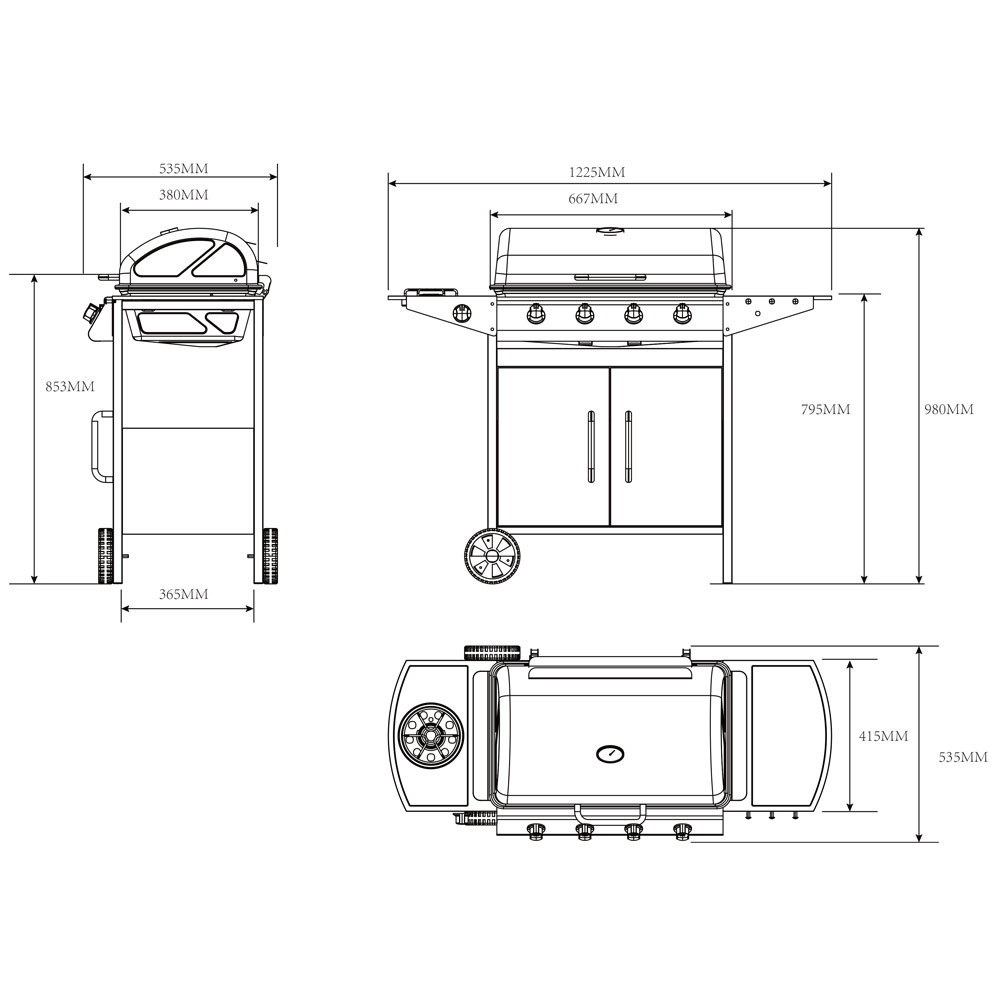 Download
Barbecue a gas in acciaio inox con 4+1 bruciatori e griglia AYRSHIRE
Download (2.14M)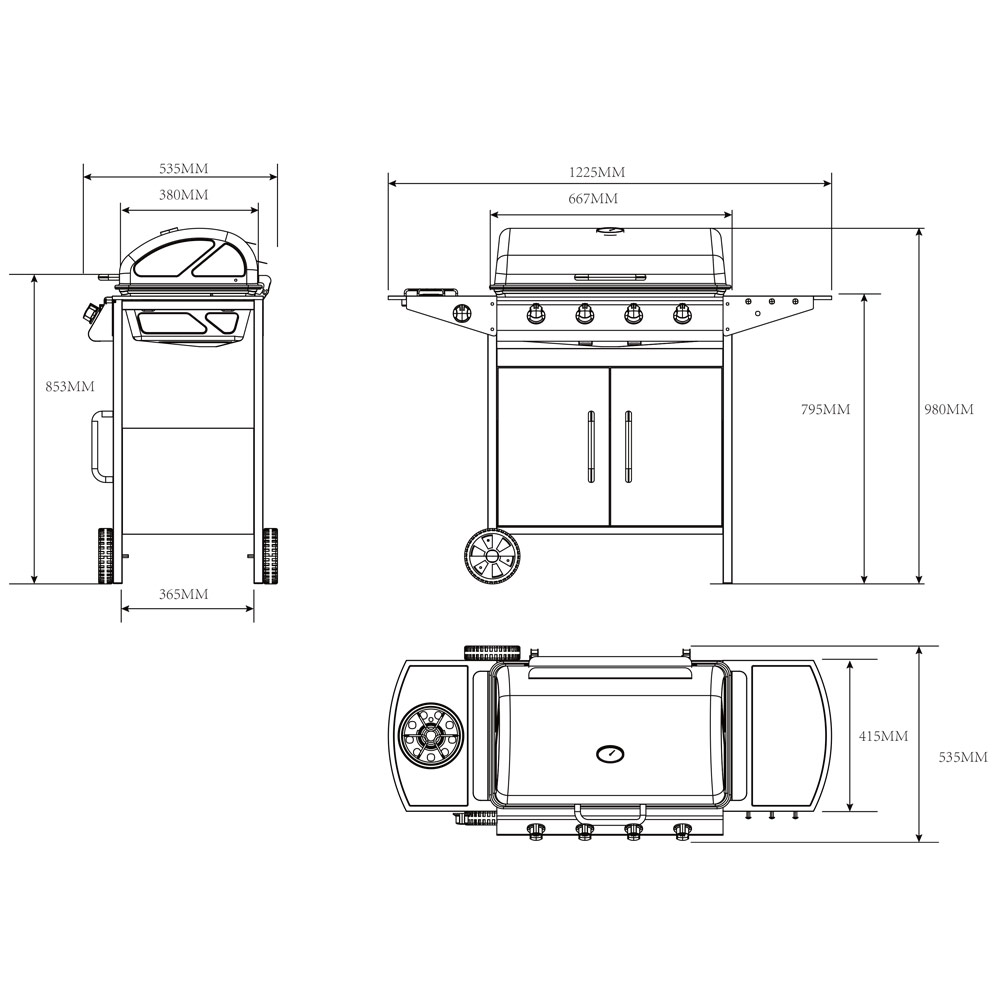 Is the product out of stock and you missed the opportunity to buy it?
Don't worry, starting today you can pre-order the desired item at the promotional price you see online right now.
What's the problem?
Pre-ordering allows you to book a product easily and without inconveniences.
It guarantees your order of the item without you having to worry about checking every day if it's back in stock and having to wait until the day of the product launch.
As soon as production is finished, we will proceed with the shipment to your home or place of choice.
When will the pre-order payment be charged?
You will be charged for the full amount on the same day as the pre-order.
When will I receive the product?
With a pre-order, you will have priority on arrivals, so you will be the first to receive the item as soon as it is back in stock.
You will also have the certainty of having blocked today's discounted price and, above all, of locking the "free transport" promotion in case of whatever happens in the future (price increases, promotions expiration, etc.).
Can I purchase pre-order products together with other items, in a single order?
Of course, yes, by choosing one of the two options below:
a) Single delivery: We will only deliver your entire order when all items are available. In this case you can easily add pre-order products and available products to your basket.
b) Multiple deliveries: We will deliver the available products first and then ship the ones in pre-order when available. In this case, we advise you to create two separate orders: one for the items that are immediately available and one for the items available for pre-order.
How can I pre-order?
You can pre-order by simply filling out the form below and our customer care will take care of the rest